December's Previews Quick Picks
Swing by the store or give us a call if any of these great picks from this month's Previews Catalog from Diamond!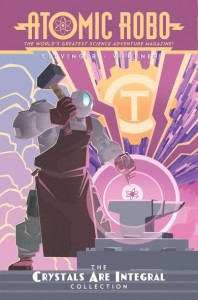 Atomic Robo: The Crystals are Integral Collection: page 174. IDW continues the reprinting of this independent classic. All Atomic Robo stories are a must read.
The Last Fall: page 176. Appears that it is a tale of science fiction in which a man goes back to war to rampage against the enemy. Sounds great.
Kennel Block Blues #1 (of 4): page 276. The story of a Dog in prison that escapes reality by retreating to the visions in his head. Sound trippy.
Welcome Back vol 1: page 281. Two assassins quantum leaping through time to constantly kill each other. Sounds deadly.
Star Wars "Jumbo Bobo Fett Bust Sketch" T-shirt: page 450. Really good looking Fett shirt.
Magic the Gathering Jace T-shirt: page 452. Very cool shirt for the best planeswalker in the game.
Pop! Voltron Vinyl Figure: page 481. I'm a sucker for childhood memories being distorted to vinyl figures.
Thor vol 2: Who Holds the Hammer?: page Marvel Previews 94: The second part of Lady Thor by Jason Aaron. Such a good read.